Packaging 2.0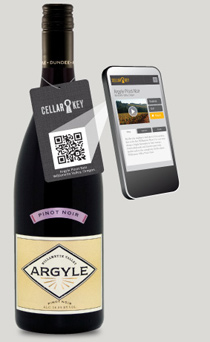 QR (Quick Response) code technology has been around for over 10 years. In the last few years, it has been increasingly used in advertising and communication as an aid to dispense information about a specific product, or promotion.
Due to the monumental increase in smart phone deployment and usage in the recent years, the use of QR code technology has also increased in leaps and bounds. While there has been literally thousands of examples of the use of this technology in packaging, few stand out. The Cellar Key, a joint initiative between Scanbuy and Lion Nathan Wine Group is perhaps a promising example of this kind application in food and beverage packaging.
By scanning the QR code on the neck tag of a wine bottle, a consumer can easily access rich multimedia content related to that wine. This works well at the point-of-sale as well as post-sale. In products like wine which have a strong sensory and emotional connection to the consumer, taking a virtual tour of the winery, reading accolades, virtually meeting the winemaker, and exploring food and wine pairings directly from your smartphone can become an important part of the value proposition.

For a product like wine, a rich extended label can be very helpful for any target consumer ranging from the casual drinker to the sommelier for choosing the right wine. During consumption, one can also extend the experience by being able to connect the taste to the origin of that taste through this virtual connection.
This idea is simultaneously intriguing and promising. Value-added tagging, whether it is based on QR code, RFID code, or other similar technology will spread to many different areas of packaging ranging from displaying playful content on fruit juice packages, to recipes, and to personalized diet suggestions.
Moreover, it is easily foreseeable that there will be a community and service backend as an extension to packaging, where consumers can compare different products and give and receive opinions and comments from other consumers. The consumer experience with the product/package is bound to extend beyond the physical interaction with the product or the package.
It is time to rethink new packaging concepts which go beyond the limits of shape, material and aesthetics.
©2012 PackageRepublic.com. All Rights Reserved.